How to Celebrate the Holidays in Katy TX
Posted: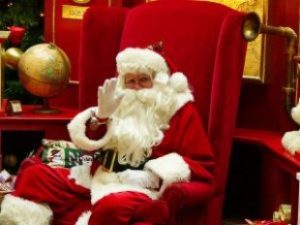 The holiday season is a little different this year, but there is still time and plenty of ways to feel festive in Katy TX. Whether you head out or stay home, as your Katy real estate agent, I'm here to fill you in on some great holiday happenings:
1.  Today is the last day to catch Santa as part of the 2020 Santa Tours with the Katy Fire Department! Santa has traveled to numerous Katy neighborhoods and today is in Firethorne. Santa and his elves will be accepting canned goods for the local food pantry and new toys for the Lions Club and Toys for Tots programs.
2.  Saturday, Dec. 19, is the last Storytime with Santa at LaCenterra Heritage Square. Tickets cost $25 for up to four people and include a LaCenterra blanket and a Nestle Toll House cookie pack! Ticket proceeds benefit Children's Miracle Network. Purchase tickets in advance, wear face coverings and practice social distancing.
3.  Kids can meet Santa at Santa's Wonderland at Bass Pro Shops. Free advanced reservations are required. Lots of safety measures are in place. Same is true for Santa at Katy Mills Mall. Make a free reservation in advance. You can choose to include the holiday photo package when reserving.
4.  Help Stuff the Sleigh make the holidays better this year for kids coping with childhood cancer. This locally based nonprofit aims to help families experience a better Christmas season. Because of events getting canceled due to the pandemic, they need help more than ever. Donate on their website to help ensure that families receive the help they deserve.
5.  Have fun shopping locally in Katy TX this year! Businesses need help now more than ever, and most of them are open for business. Some great local shops around Katy include Alku Modern Jewelers, The Cottage Door Boutique, Dovetail Antiques & Collectibles, Beau Kisses, Hippie Princess Boutique, Katy Budget Books and many others. What is your favorite shop?
There are lots of ways to have fun at home this holiday season as well! Katy Magazine came up with some great ones – Bake cookies or have a holiday bake-off among family members, watch 'Polar Express' in your pajamas while drinking hot chocolate and eating cookies, drive around Katy and check out holiday light displays while listening to Christmas music, or check our Dewberry Farm's drive-thru light display. Check out the rest of their ideas here!
As your Katy real estate agent, I hope you have a magical holiday season, no matter how you spend it. If you have Katy real estate goals you'd like to achieve now or in 2021, don't hesitate to contact me anytime to discuss your goals and your timeline for achieving them. If you have a Katy home on your holiday wish list, there is still time to start the process and make it happen! Give me a call, I'm here to help!
Mickie Cioccia | Broker Associate
Mickie C Team
Check Out Our Website
See Katy and Houston, TX Homes for Sale 
Become Our Facebook Fan
Follow Us on Twitter
Connect With Mickie on LinkedIn
Contact Our Team