Improve Your Katy TX Outdoor Space
Posted: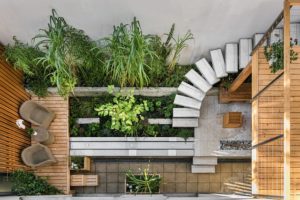 This summer, homeowners are spending more time at home. Because people love to be outside during the summertime, this means homeowners are also spending more time in their backyards, and making upgrades and improvements to their outdoor space. Not only does this make outdoor space more fun and entertaining, but it can also increase your home value when you go to sell!
As your Katy real estate agent, I am here to share some of the top trends for this summer, and tips on how you can improve your own outdoor space, if you haven't already.
According to Google Trends data from this summer, these are the most popular backyard trends, based on what people searched for on Google in the past six months:
Patio daybeds saw a 257 percent increase in Google searches. Can't go wrong with some added outdoor comfort!
Small-space outdoor furniture saw a 243 percent increase in Google searches. Round or curved furniture is great for opening up small spaces.
Backyard bars saw a 192 percent increase. Outdoor kitchens saw a 106 percent increase. Eating outside is a great way to keep your inside cool during the summer. This could be anything from a grill set up with shelves for utensils, or a portable bar counter set up, to an all-out built-in setup.
Bright colors are making outdoor spaces more joyful, with "lemon yellow" seeing a 103 percent increase, and coral seeing a 50 percent increase. Ways to add color include furniture, furniture cushions, outdoor rugs or pillows, outdoor silverware, table umbrellas, curtains, etc.
Outdoor tiles saw a 174 percent increase. This is just one more way that homeowners are bringing the inside out. These work great on a covered patio or outdoor kitchen space.
Planters and gardens are gaining popularity, as planter searches were up 172 percent and planter walls were up 156 percent. Planters and gardens are a great way to add colorful foliage, shade and extra privacy to your outdoor space. If your space is small, vertical planters work great!
Fire pits never went out of style, but they're even more popular now, with searches up 148 percent. Whether built-in or portable, backyard fire pits are a great way to gather the family for s'mores, music, stories or just peaceful together time.
What are some other ways you've improved your backyard space this summer? Fences are more popular, so kids and pets can roam freely. Backyard pools are popular, whether permanent or temporary, especially in the heat of Katy TX! Families with young kids have added playgrounds, jumpy houses, lawn games, water gadgets and more. There are lots of options available!
As your Katy real estate agent, I hope you're enjoying your home and outdoor space this summer as much as possible. If this pandemic has made you realize that your home isn't ideally set up for you, give me a call for help buying and/or selling in the Katy real estate market! Let's find you a home that better suits you and your family's growing needs in this changing world.
Mickie Cioccia | Broker Associate
Mickie C Team
Check Out Our Website
See Katy and Houston, TX Homes for Sale 
Become Our Facebook Fan
Follow Us on Twitter
Connect With Mickie on LinkedIn
Contact Our Team